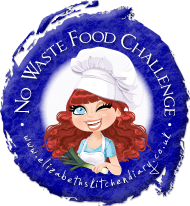 This year, Mark has grown leeks. Wonderful, flavoursome leeks! Beautiful, fragrant leeks (even if I look a bit disapproving here)!
When preparing some last weekend, the coarse green tops seemed too good to throw away, so I popped them in the fridge. Within a couple of days, we'd amassed
2 cold cooked jacket potatoes
the tops of two large leeks
the dregs of a carton of cream (optional)
about 200ml of home made chicken stock
It was starting to look like soup time! All I needed to add to the above ingredients were
1 small onion, finely chopped
a small knob of butter
seasoning and water or milk
First, chop the leeks and wash well - there's often earth between the layers, especially in the green tops. Fry the onion gently in the butter until soft, then add the leeks and cook gently for a few minutes longer.
Scoop the flesh out of the potatoes, roughly chop it and add to the pan along with the stock, made up to 400ml with water. You could replace the water with milk if you aren't going to be adding cream later. (If you're being extra-frugal, you can save the potato skins to stuff or to bake as dippers)
Cook for about 20 minutes until everything is soft and tender, then cool slightly and purée in a blender or with a whizzy stick. Taste and season, stir in the cream if you are using it, keeping back a trickle for serving, and reheat gently. Serve drizzled with the last of the cream.
This quantity made three hearty servings but of course the amount you make will be determined by the amount of leftovers you have.
I'm joining in the No Waste Food Challenge (after a break of several months - many apologies!) at
Vohns Vittles
and
Elizabeth's Kitchen Diary