Use up lots of ends from the fridge and make a dish more delicious than the local Chinese Takeaway at a fraction of the cost? Yes please!
Our local takeaway charges £4.80 for a small portion of soft noodles with beansprouts. It comes to about a quarter of the amount I've made here, and also doesn't come with the trimmings and garnishes that turn it from a side dish into a main meal on its own. Yet my version uses half a packet of noodles, two eggs and a handful of odds and ends from the fridge - bargain!
I had half a bag of beansprouts in the fridge - something that often happens as a bag is often much more than you need, yet they don't keep well so need to be used up quickly or thrown away. And I HATE throwing good food away. I also had a few spring onions and one shallot, but anything oniony or shallotty will do.
To serve 4, you will need (all quantities are approximate, feel free to just use what you have around)
½ pack dry fine egg noodles
½ bag beansprouts
4 spring onions
1 torpedo shallot
small knob of ginger
2 large eggs
sunflower or peanut oil
1 tsp oyster sauce
1 tbs light soy sauce
1 tbs Chinese cooking wine or dry sherry
few drops of sesame oil
a few leaves of crisp lettuce eg iceberg or romaine, finely shredded
1 red chilli, seeded and shredded
1 tbs crispy fried onion flakes - these can be bought from Chinese food stores and are sometimes in the "salad toppings" area of supermarkets, or you can briskly fry a few dried onion flakes (or just leave them out!)
Lime wedges to garnish
Beat the eggs together. Heat a drizzle of oil in a small frying pan and tip in the eggs to make a small omelette. When cooked, tip it on to a plate and shred into thin strips. Set aside with the lettuce, chilli, onion flakes and lime wedges for finishing the dish.
Cut the spring onions, shallot and ginger into long thin strips.
Cook the noodles as directed on the pack, drain and keep warm. Heat 1 tbs oil in a wok and stir the spring onions, shallot and ginger until softened, then stir in the beansprouts and fry for 1 minute. Add the wine or sherry to the hot pan and keep on stir frying - the evaporating alcohol creates steam that helps the veg to cook very quickly. Fry for another minute until all the veg are tender-crisp. Mix in the soy sauce, oyster sauce and sesame oil, then add the noodles, tossing well to mix. Remove from heat and tip into serving bowl, then scatter the omelette shreds, lettuce, chilli and onion flakes over the top and garnish with lime wedges - a lime wedge squeezed over the noodles while eating is delicious!
You can ring the changes by adding shredded cooked meat, poultry or seafood, or for a vegetarian meal, toasted cashew nuts or fried tofu. So it's a very handy dish for using up odds and ends.
I am sharing this with the
No Waste Food Challenge
at
Elizabeth's Kitchen Diary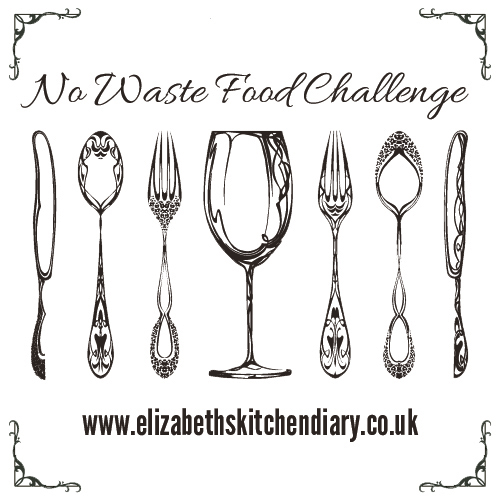 and with Kitchen Clearout at
Madhouse Family Reviews
and also with Meat Free Recipe of the Week at
The Flexitarian