One of the joys of having a piece of baked ham is the beautiful left over meat, so useful for all kinds of dishes, hot or cold, as well as making far nicer sandwiches than the packaged stuff!
We have a bit of a parsley glut in the garden at the moment, so I'd made ham with parsley sauce and had a nice l=piece of ham left in the fridge. So I thought, if ham goes so well with parsley sauce, would a parsley vinaigrette work well for serving with a ham salad?
Here's how I made it:
1 tbs white wine vinegar
3 tbs light olive oil (or your choice of oil - rapeseed oil would be good)
large pinch of salt
generous bunch of parsley, thick stalks removed, washed and dried and broken into small sprigs
Place the oil, vinegar and salt in a food processor or blender and whizz for a few seconds, then with the motor still running, drop in the sprigs of parsley through the feeder tube or hole in the lid, a few at a time, Keep on processing until all the parsley is finely blended into the oil and vinegar, giving you a thick, almost pesto-like consistency. Serve drizzled over your salad or on the side.
I made my salad from some of the ham, left over cold cooked asparagus (from the garden) and a juicy peach (sadly NOT from the garden) and drizzled a little of the dressing over it, serving the rest on the side.
We accompanied it with celeriac remoulade, green salad and some of Mark's lovely home made bread.

Incidentally, I've noticed that the "Print" button doesn't always work correctly but the PDF one does, so if you have any problem printing on any blogs that use this gadget, try the PDF version!
I'm sharing this with the No Waste Food Challenge at
Elizabeth's Kitchen Diary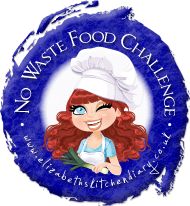 and with Simple and in Season with
Ren Behan
, which this month is also being hosted by
Elizabeth's Kitchen Diary