Chinese New Year falls quite early in the Western calendar this year, with New Year's Day falling on February 5th, although celebrations go on from January 28th to February 15th. Red and gold are very festive colours and can be seen everywhere, especially in the "lai see" packets that people gift good luck money in, so I've based my card around those colours, even though it was actually inspired by the latest
Library Challenge,
which is "The Girl With the Dragon Tattoo".
Both the dragon stamp and the sentiment are ones I have had for many years - neither carries a brand name. The coin is a genuine old Chinese coin and the gold thread is Goldfingering crochet yarn left over from my crocheting days - it must be around 50 years old. I just
knew
it would come in handy some time!
Here is the book cover for comparison - a book I really loved. I've enjoyed the sequels, too, even those written by a different author who has managed to capture Stieg Larsson's tone brilliantly.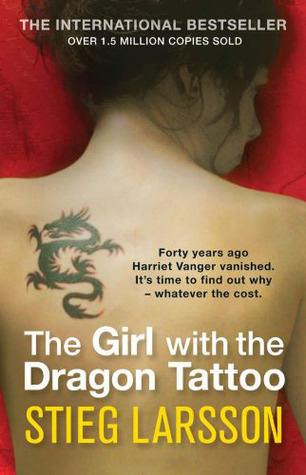 I am also sharing this card with Watercooler Wednesday -
Holidays around the World