It may seem a little bit late to be posting about using up Christmas leftovers, but as many of you know, we were away for Christmas itself, so I cooked a Christmas dinner for the UK branch of the clan on New Year's Day (which came with the added bonus of getting the crackers and napkins at 25% of the pre-Christmas price - I think I might do this every year!)
We had our family's usual Christmas meal: I used a turkey crown as none of us really likes dark meat, keeping the white meat from going dry by inserting a layer of stuffing (I must remember to share my stuffing recipe one day) between the skin and the flesh, and then covering the whole joint with streaky bacon for most of the cooking time. I served it with goose fat roast potatoes, home made cranberry and clementine sauce (using Sweet Freedom instead of sugar so I could dollop it on freely), bread sauce, gravy, red cabbage, Brussels sprouts and chestnuts, carrots, roast parsnips and runner beans (home grown ones from the freezer). And the star attraction - pigs in blankets. In case you are reading this in a country where the joy of the pig in a blanket is yet to be discovered, they are chipolata sausages wrapped in streaky bacon and then grilled or baked.
Naturally even with seven hungry people tucking in, a feast like that creates lots of leftovers - that's one of the things I look forward to most about the meal!
The next day, lunch was bubble and squeak, made from all the leftover veg (except red cabbage, that was all gone ) chopped up and fried until crispy, with some sliced leftover pigs in blankets stirred in to it. I like to serve this with lots of pickles, while Mark smothers his in ketchup.
I also made stock using the turkey bones and left over gravy, refrigerating it for later in the week.
Our next leftovers meal was sliced turkey breast in cheese sauce, topped with grated cheese and baked until piping hot and browned, served with rice, peas and balsamic baked tomatoes. I cooked extra rice and peas and kept them for the fried rice. (NOTE - when keeping cooked rice, chill it thoroughly immediately after cooking, and when you re-use it, make sure you reheat it thoroughly. Slowly-cooled or incompletely reheated rice can cause some very nasty food poisoning). I forgot to take a photo of this one, so I'll leave it to your imagination.
Next up came a turkey and leek pie - the last of the turkey meat, diced, and home grown leeks, lightly steamed, mixed into a sauce made by whisking together flour, butter and turkey stock and bringing it to the boil, stirring with the whisk (no need to simmer, if it's going to have further cooking, the floury taste will cook out while the pie cooks). There was a splash of double cream left so I added that to the sauce too. Topped with a sheet of pre-rolled puff pastry, brushed with beaten egg and baked until crisp, golden and well risen. The left over pastry and egg were made into a sort-of-Eccles-cake which will appear in another post.
And finally, on to the Festive Fried Rice. By now, all that was left of the "Christmas" dinner was 4 pigs in blankets, a handful of chestnuts and a splodge of cranberry sauce. But I also had the rice and peas that I'd saved, enough to serve two.
I chopped up the pigs in blankets and chestnuts and assembled the other ingredients:
1 small onion, finely chopped
2 cloves garlic, crushed
a knob of fresh ginger the size of the top joint of your thumb, peeled and shredded
1 tbs groundnut or sunflower oil
2 beaten eggs
1 tbs soy sauce
Heat the oil in a wok and stir fry the onion until soft but not coloured. Stir in the garlic and ginger and fry for another minute. Add the chopped pigs in blankets and chestnuts and continue to stir fry until fully reheated and the cut surface of the sausage meat starts to colour. Mix in the rice and peas and lower the heat. Continue to cook, stirring gently to break up any lumps in the rice, until everything is piping hot. Stir in the soy sauce and mix until evenly distributed - there should be no white patches of rice.
Increase the heat again and push the mixture out to the sides of the wok, leaving a circular clearing in the middle. Tip the eggs into this and leave for half a minute to start setting. then start to stir, scramble and break up the egg - as it sets and breaks up, gradually bring in the rice mixture from around the edges working outwards until the rice and egg are evenly mixed together.
Serve with a dollop of cranberry sauce.
I hope this has given you some ideas for ways to use up YOUR leftovers - and remember, leftovers are for life, not just for Christmas. We don't want to waste good food at ANY time of year. All these ideas can be adapted to whatever you have around, and are especially handy for using up odds and ends after a roast.
I'm joining in with
Kitchen Clearout
at Madhouse Family Reviews
No Waste Food Challenge
at Elizabeth's Kitchen Diary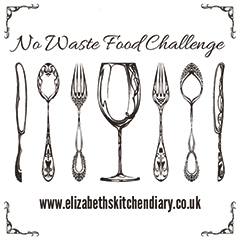 Credit Crunch Munch at
Fab Food 4 All
and
Fuss Free Flavours
Tasty Tuesdays
at Honest Mum